¬ five Questions with GummiHz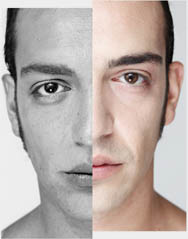 This is the second time you have worked with a vocalist for your tracks on mobilee. Can you tell us a bit about the incredible voices of Emena and Malena?
It was one of my aims to have a couple of songs with vocals, each one in a different direction. So I spent some time looking for singers and met up with Malena Perez. Malena is a very sweet person and a creative singer. She has worked with a few producers on different musical styles and it was very exciting to see how experienced she is in using her voice as an instrument. It didn't take us a long time to record the right voice, as she is very professional in her art. Emena is an alter ego I am using for the first time in a track, quite a sensitive guy I must say! (laughs) I had initially recorded the vocal myself as a draft for a singer to listen to and work on, but I ended keeping it instead. The emotion in the voice is strong and it's under heavy "make up". It really captures the right feeling for the song.
How much effort does it take to use your own voice - have you had any singing experience before? How do the closest people around you (family and friends) react to you singing?
I think it really depends on how one can feel the mood and energy of a song. Having a good voice to sing and really making a song your own are miles apart. I noticed that character and attitude also play a very important role in finding a good vocalist. Singing is a very intimate form of expression and I must say it's something I enjoy doing at times. I haven't had any special training, I just have a passion to express myself and reach out. It's not something I do often, I only sing in the studio rarely and sing over favourite songs at home. It's quite funny that I played one of the tracks with my voice to friends and a few people asked me about the singer. When I told them about it they where quite surprised. I must say I am very curious to see how people will respond, as it's the first time I have used my voice for a song.
Did you write the lyrics by yourself? 'Love Call' tells a story that everyone who has been in a relationship before knows about - how much autobiographical truth is there in these lyrics and if they are very personal to you, is it strange to see how people react to them?
Yes, I remember recording the vocal first and then playing it over to write down the lyrics so I could remember them. It was during a sensitive period in my life when I was quite charged emotionally and really needed to release this energy through a song. I am interested to see if people can connect with the song. Can you understand what "Love Call" is about?! (laughs)
In the past, there have been very specific GummiHz stylistic traits in your music ('Gummi moments!') - amongst these were special hypnotic, elastic and percussive vibes. How do you think your style has changed and how do you think you have developed as an artist - especially with this album?
As a person I am influenced by various music styles. Especially within dance music. I have always been listening to different sorts of house and techno. I feel I am more experienced now having produced a few records, in putting an idea in the right context and really developing my production method. I always try to be honest to my ears and produce what I would like to listen to in record stores and clubs. It's my own translation of modern dance music, sometimes more techno and sometimes more house. In my eyes it's important to be diverse and to manage to deliver to your audience and try to reach out to more. On top of this, I don't want people to be able to predict how a Gummihz record will sound. Only partly, as there has to be some surprise to it also.
Are you planning on performing live in the near future and do you think you could sing in these live shows in front of lots of people?
Performing live is an attractive idea I have had for some time, but my passion for djing is and always has been more intense. I find the dj performance more suitable for me as I can be even more diverse than if I was only working with the directions of my own music. I have some experience, as I have performed live on a couple of special occasions in the past, but the turntables are my favourite tools for performing. Maybe in the future and under the right circumstances I will explore this side of performing more or even make a few special live appearances to promote the album. We'll have to wait and see.